Aurora, Neb June 11, 2015 – Hamilton Telecommunications was recently recognized as a Patriotic Employer, for the company's support of Employee Participation in America's National Guard and Reserve Force by ESGR (Employer Support of the Guard and Reserve).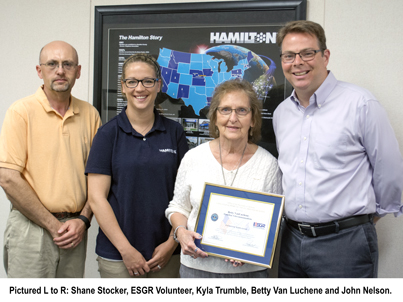 The award is given to managers, supervisors, or companies in appreciation for their support of its deployed military and their spouses. Recipients of a Patriotic Award must be nominated by a service member or their family.
Hamilton Telecommunications was nominated for the recognition award by Kyla Trumble, a Hamilton employee and wife of Sergeant Jason Trumble, who is currently deployed. Kyla Trumble has been employed with Hamilton Telecommunications since January 2015. Betty Van Luchene, Business Office Manager and John Nelson, Chief Executive Officer of Hamilton, accepted the award upon the presentation by Shane Stocker, an ESGR volunteer out of Grand Island.
About ESGR
ESGR, a Department of Defense office, was established in 1972 to promote cooperation and understanding between Reserve Component Service members and their civilian employers and to assist in the resolution of conflicts arising from an employee's military commitment. Together with Headquarters ESGR staff and a small cadre of support staff for each State Committee, volunteers work to promote and enhance employer support for military service in the Guard and Reserve.