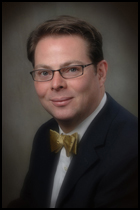 Chief Executive Officer, Nedelco
John Nelson is CEO of Hamilton Telecommunications and the company's eight business line divisions. As a director of Nedelco and several of its wholly owned subsidiaries, John provides support and direction to all members of the Hamilton management team and staff.
John's employment with Hamilton began at a young age, working after school and during Summer vacations. In 1998, he joined Hamilton full time, bringing experience in customer care, software support, and systems troubleshooting. Beginning as the on-site technical backbone of the Louisiana Relay Center, John moved to Aurora, Nebraska in 2002 where he joined the Hamilton Senior Management team.
John is a past Chairman of the Nebraska Telecommunications Association Board of Directors, having served since 2006. He is also a long-term member of the Board of Directors of the Edgerton Explorit Foundation in Aurora and is currently serving as the Board President.
A graduate of Southern Methodist University, John received his Bachelor's of Arts degree in History with an emphasis in English and Medieval Studies. John and his wife Deb live in Aurora, Nebraska and enjoy bicycling and traveling.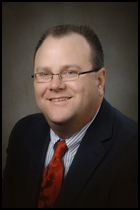 Chief Operating Officer, Nedelco and

President, Hamilton Telephone Company
Drawing on a wealth of experience in management, business development and employee relations, Dan Molliconi is the Chief Operating Officer of Nedelco, our parent company. In addition to overseeing the daily operations and performance of the Internet, Telephone, Long Distance and Information Systems divisions, as well as our internal LAN and WAN departments, Dan actively seeks new growth and expansion opportunities for Hamilton Telecommunications in his role as COO and member of the Board for Hamilton Innovations, LLC.
Prior to his current role with the company, Dan began his career with Hamilton in 1995 as Human Resource Manager. In 1999, Dan assumed responsibility for Hamilton.net and later became Vice president of Hamilton Information Systems, Hamilton long Distance, Nebraska Central Telephone Company, Hamilton.net as well as President of Hamilton Telephone Company. Dan's primary passion is in innovation and leveraging technology and exceptional employees to create forward looking services and products that can benefit our communities, customers, employees and owners in an ethical and efficient manner.
Dedicated to the Industry, Dan recently concluded a 21 year term as Chairman of the Education and Training Committee for the Nebraska Telecommunications Association (NTA). A graduate of Hastings College, Dan received his Bachelors of Art degrees in Business Administration, Economics and Human Resources Management. He lives in rural Aurora, Nebraska with his wife, Mary and their son, Jacob.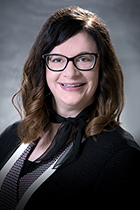 COO of Relay; President, Nedelco Services Corporation
As Vice President of Hamilton Relay, Dixie is responsible for the overall Hamilton Relay business line. Along with a highly capable management team, Dixie oversees all areas of the business, driving to provide innovative and high-quality communications access to connect individuals who are deaf, deaf-blind, hard of hearing or who have difficulty speaking to people who use standard telephones.
In addition, as President of Nedelco Services Corporation, Dixie leads an outstanding team of managers inside Nedelco's shared services division. These teams provide operations support in the areas of Enterprise Software and Data Management, Human Resources, Marketing, Sales and Software Development to all Nedelco companies.
Dixie joined Hamilton in 1994 and has nearly 30 years' experience in corporate leadership. She plays an active role at both the local and the national level, analyzing potential markets and delivering new products and services to the telecommunications marketplace.
Committed to the Telecommunications Relay and Captioned Telephone industry, Dixie has served two terms as a member of the National Exchange Carrier Association (NECA) Relay Advisory Council and two terms as a member on the Consumer Advisory Committee (CAC) of the Federal Communications Commission. Dixie was selected by the Chair of the Consumer Advisory Committee to serve as the TRS Subcommittee Chair. In addition, Dixie has served six terms on the Disability Advisory Committee as IP CTS Working Group Chair. Locally, Dixie supports Nebraska Extension and 4-H programs as well as is a Director for the Aurora Public Schools Foundation.
Dixie graduated from Dana College. She lives in Aurora, Nebraska with her husband Dan and her children Grace and Noah.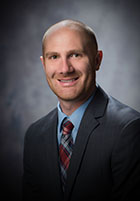 Chief Financial Officer
As Chief Financial Officer, Brock Wyatt is responsible for the overall financial strategy and direction of Hamilton and its nine various business lines. In this role, Brock oversees accounting, financial planning and analysis, internal audit functions, corporate strategy and works with each business line to achieve the company's goals.
Joining Hamilton in 2018, Brock has 15+ years of experience working in the Finance industry, including leadership roles in banking, healthcare and public accounting.
Active in the community, Brock serves as School Board member for Aurora Public Schools, is on the board of directors for the Hamilton Community Foundation, volunteers as a Teammates Mentor and is an active coach for youth athletics.
Brock graduated from Nebraska Wesleyan University with a Bachelor of Science in Accounting and received his CPA Certificate shortly after. Brock and his wife, Jenny, live in Aurora with their children Paityn and Gavin. Brock enjoys playing golf, basketball, hiking and climbing mountains.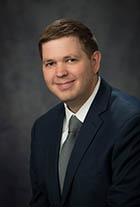 Chief Legal Officer
As Chief Legal Officer at Hamilton Telecommunications, Jim Ediger serves as a member of the senior management team and is responsible for the legal affairs of the organization and leads both the legal and information security teams.
Jim currently serves on the boards of the Edgerton Explorit Center and the Aurora Development Corporation and is a member of the Aurora Rotary Club. Jim was appointed to the Nebraska Information Technology Commission in 2022.
He earned his J.D. in 2013 from the University of Nebraska College of Law and his Bachelor of Science in Business Administration in 2009 from the University of Nebraska-Lincoln.
Jim and his wife, Nicole, live in Aurora, with their son, Henry, and daughter, Eleanor. Jim enjoys playing golf, reading, spending time with his family and attending Husker sporting events.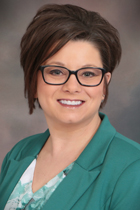 Chief Administrative Officer
As Chief Administrative Officer of Nedelco, Incorporated, Jannelle Seim oversees the management and establishment of companywide strategic initiatives while supporting all aspects of the Board of Directors and Hamilton Telephone Company stockholders' relations. In addition, Jannelle is responsible for all governance operations as Corporate Secretary for Nedelco and its subsidiary companies.

Prior to joining Hamilton in 2016, Jannelle spent several years working for Nebraska State Probation. With a passion for helping youth, she worked to build juvenile justice programming and detention alternatives for youth, in addition to case management.

Her passion for helping others has led her to volunteer for several organizations within her community. Jannelle is the President of the Aurora Housing Development Corporation and Aurora Construction Enterprises. She also sits on the board for A'ROR'N Days and is a member of the Aurora P.E.O. Chapter AC and the Aurora Rotary Club.

Jannelle graduated from Doane College with a Master's Degree in Management with an Emphasis in Leadership. She and her husband Anthony live in Aurora, Nebraska with their two sons, Alex and Zach.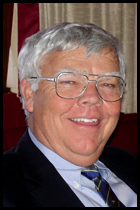 After being actively involved in the development of key business operations for over 50 years, Phil retired from the Board of Directors in 2019. Since beginning his career with Hamilton Telecommunications in 1965, Phil was an instrumental leader and director in creating new avenues of service and developing open channels of communication between employees and clients.
Phil served as the company president for more than 27 years and has served as president / director of many national telecom industry organizations, including the U.S. Telephone Association.
In Nebraska, Phil has served on the boards of directors of the Aurora Memorial Hospital, Pinnacle Bank Corp., the Aurora Chamber of Commerce, Rotary, the Aurora Development Corporation, the Edgerton Memorial Foundation and the Central Community College Foundation.
A graduate of the University of Nebraska, Phil and his wife, Lora, live in Oakley, Utah.