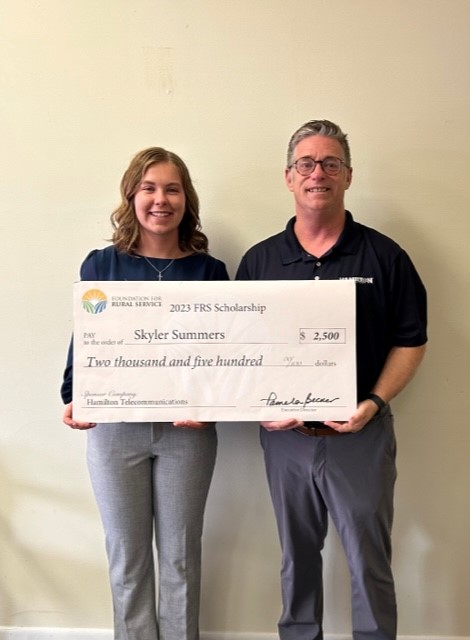 Gibbon, NE (May 30, 2023)—Today Hamilton Telecommunications announced that Skyler Summers has received a scholarship through the Foundation for Rural Service (FRS). Founded in 1994, FRS is the philanthropic arm of NTCA–The Rural Broadband Association, of which Hamilton Telecommunications is a member.
The FRS Scholarship Program awards one-time scholarships to students from rural communities for their first year of college, university, or vocational-technical school. Each student is sponsored by an NTCA member company that may also contribute a portion of the scholarship award. This year FRS awarded a total of $124,000 for 42 scholarships to students across the country.
"Providing opportunities for young people in rural communities is a core mission for FRS. We are proud to partner with NTCA member companies and generous individuals in the industry to make these scholarships possible each year. Congratulations to Skyler," said Pam Becker, Executive Director of FRS.
Hamilton Telecommunications has participated in this program since 1996.  "We are proud to take part in helping local students find financial support for their higher education," said John Nelson, CEO of Hamilton Telecommunications. "We commend Skyler for her achievements throughout high school and wish her much success in her future endeavors.
————————-
The Foundation for Rural Service (FRS), the philanthropic arm of NTCA–The Rural Broadband Association and its members, seeks to sustain and enhance the quality of life in rural America by advancing an understanding of rural issues. Through scholarships, grants, and a variety of educational programs, FRS focuses on educating rural youth, encouraging community development and introducing policymakers to challenges unique to rural communities. Visit us at www.frs.org.
NTCA–The Rural Broadband Association is the premier association representing nearly 850 independent, community-based telecommunications companies that are leading innovation in rural and small-town America. In an era of transformative technological advancements, regulatory challenges and marketplace competition, NTCA members are leading the technological evolution for rural consumers, delivering robust and high-quality services over future-proof networks that make rural communities vibrant places in which to live and do business. Because of their efforts, rural America is fertile ground for innovation in economic development, e-commerce, health care, agriculture and education, and it contributes billions of dollars to the U.S. economy each year. Visit us at https://www.ntca.org.
Hamilton Telecommunications is a diversified communications and technology services provider based in Aurora, Neb.  Founded in 1901 in Hamilton County, Hamilton has grown to encompass nine primary company divisions, including Hamilton.net, Hamilton Telephone Company, Hamilton Information Systems, Hamilton Long Distance., and NCTC — and has become one of the leading independent communications companies in the United States. For more information, visit the company website at: www.HamiltonTel.com.